You can invest for income or growth or both.

For the PSEi index, which tracks the major companies listed on the Philippine Stock Exchange and is broad based (that is including companies representing all sectors such as mining, industrials, financials etc.), the compounded annual returns - AVERAGE INCOME - over 1, 3, 5, 10 years were 33%, 24%, 10%, 19% respectively. This means that if you had invested in a broad range of shares over these periods, these COULD have been your rates of income over that time. Please note however that these are averages and are not indicative of any particular stock or group of stocks.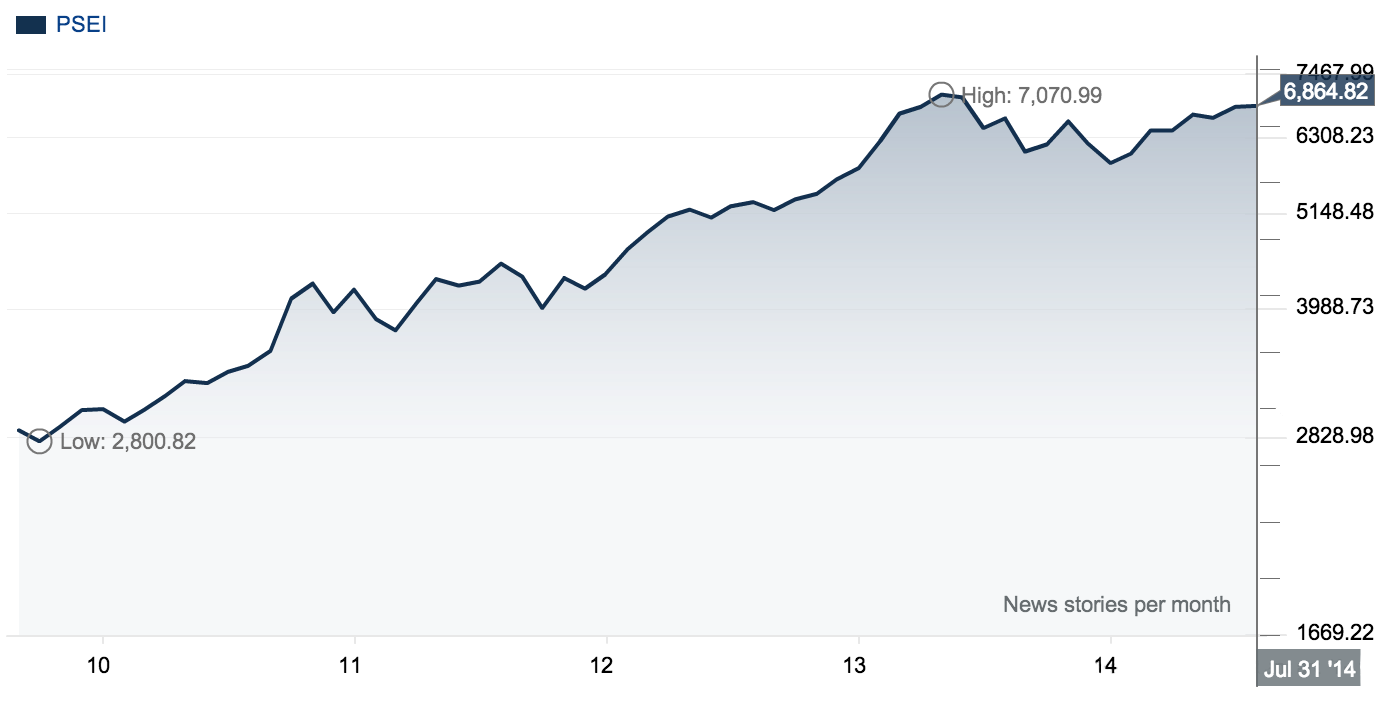 In the last 4 years alone (2010 - 2014), the PSEi has achieved a compounded annual growth rate - INCREASE IN VALUE OF STOCKS - of 19.25%.

But the market will always be cyclical, that is, it will always have UPS and DOWNS. In order to maximize the value of your investment and ride through these ups and downs, you must follow the:
SOUND RULES OF INVESTING
1. Do your own research
We will always assist and offer advice on request but you should try to gain your own knowledge of the companies you are investing in. For example, research their average profits over the last few years, learn how their business is developing and what their future plans are. Learn more about the officers and directors who make important decisions for the company.
---
2. Know your appetite for risk
If you are conservative, you can invest passively by buying stocks in leading stable companies with a history of delivering income and growth. If you are willing to take on more risk, you can invest more agressively, buying and selling on the cyclical highs and lows. We can help you better understand your risk profile.
---
3. Diversify
As you build your investments, you should have them in a range of different categories, perhaps some cash savings, term deposits, shares, real estate and bonds. If you buy stocks, you should also try to buy different categories such as industrial companies, banks, mining and resources, property and retail companies. This spreads your risks and improves your chances of achieving income and capital growth. Talk to us about choosing the best mix of stocks for your situation and needs.
---
4. Don't try to time the market.
No matter how well you have done your research, markets, just like people, will sometimes behave irrationally. Don't overreact when a market movement happens. Assess the situation calmly. Reacting without reflection to market movements can lead to financial losses which can be avoided. The old adage is : "It's not timing the market, it's time in the market".
---
5. Don't react to rumors.
Just because a relative, friend or neighbor gives you news about a stock, unless that person is knowledgeable and qualified, that news is likely to be wrong and can lead to losing you money. Consult a qualified securities professional or other qualified financial adviser and above all avoid the two negative motivations in stock investing: FEAR and GREED.